Essentially, it's hurricane season from June to November in this part of the world, from the Caribbean up, along the Northeastern Seaboard. This year has thankfully been fairly uneventful on the coasts of the US, where we found ourselves most of the time. Until… Ian came to town. These systems that turn into hurricanes come off of the West African coast and often then barrel through the Caribbean and eventually up the east coast of the US and, sometimes, straight on up to Nova Scotia. So being they begin that far off and away, there is time to watch carefully and come up with a plan, need be. It's tricky, when even the experts can't predict with certainty that far out and the watching game begins.
Our usual grand plan is to simply sail away and not be in a hurricane zone, but that's not always possible. The worst storms we've encountered have been in the Long Island Sound, both times we rode out the storm fairly well, as we've written about in other blogs. But a direct hit vs. being exposed to a storm's outer bands can be very different. So far this year, Fiona devastated an already and still-recovering Puerto Rico. Now, Ian slammed the SW coast of Florida. The devastation we're seeing from shots and stories we hear about in Ft. Myers reminds me of the devastation we've seen first hand from what Hurricanes Dorian, Maria and Irma did to the Bahamas, Dominica, Puerto Rico and St. Martin. When it's happened in the past, pre-sailing life, I didn't pay much attention. I wasn't going to be affected and simply dismissed the tragedy with little thought and a "poor them". I sort of "othered" and walked away raising my brow thanking the heavens it wasn't me.
Having been on islands that had been recently ravaged, destruction ever-present even many months and years after the storms' initial impact; seeing what hurricanes can do, has left a deep impression and reshaped my humanness and consideration of Mother Nature tremendously. The stories of "others" are now mine. Certainly, we brace ourselves when there's real potential we'll be hit and start planning, for one, because we must. Though we've been relatively unscathed, superficially, we're profoundly changed. A friend of ours lost his boat in Irma and the entire experience was well over a year's worth of suffering and a simply hellish experience. I remember a story from the time we went to visit this friend several months after Irma hit in St. Martin. A restauranteur told us about experiencing the storm's howling and unearthly vibrations, how they were hunkered down waiting for the roof to fly off, and how his wife was so traumatized she did not speak for 3 days after. Or the story of our tour guide Armstrong, in Dominica, whose sister was still missing four months after Maria and believed to have been washed out to sea. Growing up in NY, when a nor'easter came through, I looked forward to the snow as a kid. As an adult, ya just stayed off the road. These incredibly destructive storms are very different. Our geographic radius and inner-radius when they arrive, are now much greater and attuned. In the early stages with Ian on the way, we started to realize that we might have to sail away to avoid this one and began taking into consideration all sorts of things. A new reality sunk in. 
Of course, I had an upcoming flight back to NY which made things that much more complicated. I could never leave Paul in the face an impending storm. At one point, Daniel even considered taking off from work even though he didn't have any more paid leave for the remainder of the year, to help us sail away. In the planning stages there are lots of considerations and painfully long days of watching reports and updates and figuring out what can be done… or not. We heard one sailor say "it's like being stalked by a turtle." I'd add, a very scary, demolition, life-threatening turtle and we're glued to resources that report on the demolition turtle's progress. Some of the sources we consult include Chris Parker's Marine Weather Center twice a day, we also consult about 4 different weather models, and look at our weather apps and their predictions. In the beginning it's common that weather models don't agree on the storm's track and precise intensity. It's so unnerving because a few hundred miles on either side of the storm's path can mean the difference between catastrophic damage and a non-event. Yet, decisions need to be made and plans of action implemented. Because in 2017 Hurricane Irma came through Coastal Georgia and its storm-surge brought the floating docks very close to the top of the pilings and Irma had taken a similar path to what Ian was now seemingly lining up for; we were a bit extra nervous. Boaters who had been at Brunswick Landing Marina for that hurricane reported directly to us that the floating docks came within a foot of the top of the pilings so there were no doubts of the potential. That means we needed to fully understand the conditions in which Irma occurred and the probable conditions we were going to face to make a well-educated decision as we were faced with Ian's arrival. At one point we considered sailing up a secluded river in the area that we thought might provide better protection but after speaking to a local gentleman and getting his years' of experience and professional opinion in the pilot boat industry, we reconsidered.
There are all sorts of charts and resources we were consulting on this one, as I mentioned, and we found lots of new ones for local conditions. After researching tides and storm surge potentials, we came to the conclusion that we had reasonable cause to worry but it would be unlikely that we'd experience anything terribly severe. Nevertheless, prepare for the worst and hope for the best is what we try to do. We did not sail away, which was a consideration we decided could be taken off the table within 48 hours of the storm's estimated arrival and it's path had moved just enough where we were no longer faced being a direct-hit bullseye. Yet we still felt the impending doom.
So in the free-spirited nature of cruisers, we had a hurricane party the night before Ian was due to hit SW Florida and the marina supplied the beer, wine, and ingredients to make "hurricanes". It was a sort of coming together in communion after the stress and toil and in the face of some unknown. All wise and beautiful societies do this: ancient, indigenous, salty sailors; they have a ritual coming together in a collective energy. We knew we were not going to get the worst of it but our hearts were already bleeding for those who had and would. Many of the party-goers either had been docked in Ft. Myers or knew others who were. We shared our storm stories, hoped our most educated guesses based on the experts' predictions and past history would not change drastically, and braced for the devastation that was on its way up the western coast of Florida while sending some collective energy to that coast. They were the ones most in need of it as it'd land there, a direct hit, before crossing the state and coming over the GA/FL boarder, out to sea and then turn to come back and hit the Carolinas. Crazy, huh? Reason for pause. Recently, I learned the Dalai Lama's morning prayer is essentially to always pray that he can be of service to others most in need. His morning prayer for the world is to be "a guard for those in need of protection, guide for those on a path, a boat for those who wish to cross the flood, a lamp in the darkness… a tree of miracles…" Maybe our hurricane party gathering was our version.
We do not party often and in a new COVID-world, even less, but we let loose this particular night and really enjoyed ourselves, dancing was involved, with our fellow cruisers. It was a great release after days of worry and toiling with preparations and not think of what the storm had brought and would still bring… maybe just for a bit. Predictions at that point still allowed for storm surge to cause our docks to float over the pilings, but the severe winds were to be over at that point. In true spirit of Maritime Tradition, our two "anchor boats" at the end of our dock put out lines that tied from their boats to the fixed docks on land; a prepare for the worst move that would have potentially saved us all from drifting away. Our heroes. Maritime tradition is quite beautiful in that it's steeped in the fact that seafarers come from all sorts of backgrounds and cultures, but come together and support each other when faced with the common challenge of sailing on the seas presents. In the face of the storm, this tradition created a unique mood throughout the marina: neighbors were helping neighbors, securing extra lines on unattended boats, stowing loose items left out in fairer weather conditions and just overall brotherly love was in abundant supply… each other's "lamps in the darkness… guides on a path…" It's as if everyone was on certain level synched and empathetic, what is called by some a coherence level. Something that we could strive for when not faced with the exceptional experience, perhaps, more of a practice than an exception. The HeartMath Institute says "Heart Coherence is a state of cooperative alignment between the heart, mind, emotions and physical systems." In such circumstances coherence is amped up. Why not make it a daily intention, sans life-threatening natural disaster, I wonder.
We've now all seen the images of the wide wake of Hurricane Ian's destruction. That's one of the "images of the year" for 2022 that I copied above. It ranged from Western Cuba to the Carolinas. As a category 4 hurricane, he came barreling into the coast of Ft. Myers, FL and is now ranked as the fifth strongest hurricane to have ever hit the US. Imagine living in the Caribbean Islands where you're faced with this annually and have no place to go. Or the South Pacific Islands with tsunamis and cyclones…? Right now my heart bleeds for Californians, between the devastating fires and floods and losing their home. Not to diminish the tragedy they face, at all, but at least they've got the infrastructure to fall back on and a mainland to move around on. Further imagine being faced with losing your life and your home, like those on the islands with no place to run? Imagine how these experiences must impact island cultures generationally… how it is impacting our earth. Usually, facing our own mortality makes us uncomfortable and we look away and detach, but Islanders have little choice to do so, often seasonally. The Stoics believe in a philosophy of memento mori, or as the Tibetan Book of the Dead has us contemplate, when we keep our mortality at the forefront of our consciousness, we live the way we want to die. Intentionally living is only a choice while we're living. A mentality that encompasses the understanding that it's not just happening to THEM it is happening to US, all of us and we are no less mortal than the next guy. Our earth is not an endless regenerative life in the face of it all. Seemingly, experiencing tragedy and overall limits of our endurance can shake us up. Great place to start anew, I say, and keep it in the forefront and not forget. Dr. Ervin Laszlo, a systems scientist and one of the greatest humanist and thinkers of our time, nominated for the Nobel Prize twice, believes it's a realization critical to our very survival, our posterity and is hopeful we have what it takes. In sum, it is the force that is within us, Star Wars fans, that will save us if we use it wisely. Without a change we endanger the world and our species' survival. Dr. Laszlo believes it starts with a simple question, how do you relate to people, society and nature? The late Ven Thich Nhat Hanh coined the phrase "interbeing" on the belief that all phenomena are interdependent, an unending chain of factors that brings rise to the next and so on in the cycle of life and death. And beyond…?
It was a harrowing time yet people came together, before, during and after. We know a family of four that drove straight from Arkansas to be here and another guy who drove from Oklahoma to check on their boats. In sailing, you experience incredible once-in-a-lifetime opportunities in places and surroundings you would never be able to reach in any other form of transportation and that's an example of one of the highs. The peak experiences are priceless as you may have gathered. But when the pendulum swings the other way, the challenges of this lifestyle can get hairy scary. There's nothing scarier than losing your floating home/magic carpet, especially if you're on it. In the past, we've spent hurricane season in southern latitudes and it's been just as stressful but we never did get caught like we did up north. Yet, in the face of it all, and then in the aftermath, we're reminded of the beauty that remains and the power to live as we wish to die, if we see the grace in it all. There's ultimately a divinity in facing our impermanence with greater care and observation. Living so close to this weather pattern and the islands effected has made us pay much closer attention and feel the pain of those devastated much more profoundly. And also live in the joy of the interbeing, until eventually, something in the nexus ceases to exist and so will we. Yet, even then there is an ever presence that I think connects us, or at least that's what I feel fuller believing. I think Danna Faulds captures this beautifully in one of her poems, "…everywhere present, in the stately trees or the melodies of sparrows… in the Buddha's smile, the countenance of Christ, the words of the Koran and Sanskrit prayers… the sky where the movements of moon and stars trace my beauty… bring your focus closer to your heart… like salt in water… let go into the ocean of my love… be jubilant… be at peace… the seed and fruit… the tree and root… in communion with the whole…" As we prepare to finally publish this post (island time m'on), we're anchored off Vieques, Puerto Rico. For now, the plan is to return to our southern hurricane hole and see what Mother Nature and life has in store there and allow this opportunity and these experiences further shape us. We'll be pulling into Marina Puerto del Rey across the bay soon and take care of things that broke on our sail down. Then, we'll continue to move to our southern latitude hurricane season destination, where we haven't been in four years since the start of our magic carpet ride.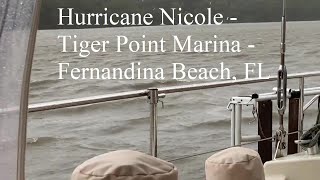 Just over a month after Ian, Nicole came to town. Here we are at Tiger Point Marina in Fernandina Beach. To the right you'll see the docks under water to the left, the "lake" is flooded marsh.