As we move south, the butter watch continues and there are signs of it softening, but it's far from melted. Here in Georgia where we've washed up, temps fluctuate from low 80s to mid-fifties now that we're transitioning into spring. It's hard to believe we've been here a month. Somebody stole the month of February. But as most of the country is experiencing record lows and unprecedented inches of snow, we are not going to complain…. Too much. At one point I thought to myself that if we didn't already live on a boat I may have started building one since it torrentially rained for over two weeks.
A huge perk of this little Georgia county we're in is that both Paul and I qualified for the vaccine. When we first went on line to the Glynn Co. Health Dept. website and it told us to sign up to place our names on a waiting list to then get on yet another waiting list for the vaccine, I have to say, it didn't sound that promising. But a month later, we are now the relieved recipients of both doses of the Pfizer vaccine as of one week ago.
Before leaving, as the weather in VA got colder and colder and as we worked diligently while on the hard ( "on the hard" being the expression to indicate the boat is on land not in the water, but as far as I'm concerned it's more accurately referring to the work needed to be done at this time) in VA, we grew increasingly anxious to get south. Even if where we eventually go involves a huge element of unknown, thanks to Covid, we hope for the best and for things to continue to improve. But we had a slow move down since there was just one turbulent stormfront after the other. We had to tuck away and hide from nasty weather all along the approximate 600-nautical-mile-way. One particularly long stay was spent in the little village on Bald Head Island in North Carolina.
Daniel planned on spending his mid-semester break with us, and we told him he'd need to block off at least 3 weeks since we were sailing from VA to GA and potentially had 2 stops in North and South Carolina, plus we had to wait for the ideal weather window. So he did. A near perfect weather window is particularly important when you take into consideration the conditions going around Cape Hatteras, which can be treacherous. Also dealing with sailing across and/or along the Gulf Stream, the waves and wind need to be just so in order to have a comfortable trip.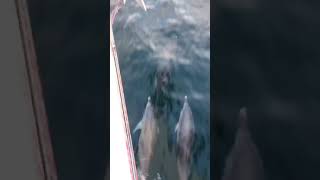 Daniel was excited to do his first overnight passage and this trip had a potential of four of them, and it delivered. Blake and Brendan have both had their overnight experiences and that's when I've taken advantage of the extra crew and take the time off. So, I was off night-watch duty. I'd pop my head up just to make sure no one needed a break, but for the most part, I was in charge of cooking and feeding the captain and crew. Since I'm not a fan of cooking underway, I did most of the cooking before we left while we were still in our air b-n-b. in VA. Paul helped and fried up 27 chicken cutlets. The first couple days, we had spirited sailing but eventually lost the wind and had to sail/motor-sail. It was so rough at a few points that Daniel said, "Now I understand why after you guys come back from passages, you don't just want to go day sailing. This is intense!" But as with most sailing adventures there's intense challenge and intense joy. We also had so many pods of dolphin visiting us along the way which made it extra special. Luckily the skies cleared and the waters calmed when they did, so going up to the bow to commune with the dolphins was a first for Daniel. There was one particular pod that was very verbal. It was the first time we all heard dolphin squeals through the hull.
We didn't get our canvas work done in VA so we're here in GA to get that done and then we can install our additional solar panels. Now that we've become solar junkies, four are simply not enough. It's an initial investment of both time and money, but saves in the long term on running the generator which is wasteful and time consuming. It's a pleasure to not need to do that as much with our clean and potent solar power. And since Paul has already done all the hard work of installing the wiring, these additions are just a matter of mounting. So now it's just a 'plug and play' situation once the canvas mounts are sewn on.
So we're back in the land of butter cake, roseate spoonbills, shrimp and deeply orange sunsets. We're tied up at the end of the dock along the channel and have a great, uninhabited view of sunsets and the pelicans diving for breakfast, lunch and dinner. They startle us when they splash down particularly close to the boat in a forceful dive. It'll take us another month or so to finish the projects we've got going now, and then we're off for a stop in Florida to stage for a crossing over to the Bahamas.