We had been waiting for the butter to start melting as we sailed south, determined to find warmer weather. Our friends on s/v Beam IV had the same endeavor as we and advised us to sail south until… the butter started melting. We sailed, watched the butter, and waited very patiently.
Prior to our arrival in Palm Beach we had had some cold nights at sea, sometimes in the low 30's. FINALLY, we passed the "frost line" at Daytona Beach and could start to feel our toes aching to be set free of those wool socks. The difference in temp was so noticeable. It's as if 75 degrees south of the frost line is magically warmer than 75 degrees north of it. Finally there we were, in turquoise water and warm, sunny weather, off the coast of Peanut Island. Peanut Island is at the mouth of the Lake Worth entrance, just north of Palm Beach and off the coast of Riviera Beach; the port is called The Port of Palm Beach. JFK's nearby vacation home in Palm Beach made Peanut Island a perfect location for the Kennedy presidential bunker, built there after his election in 1960. They used to give tours of the bunker, which we would have loved, but sadly not anymore. The Kennedy summer home has since been sold and Peanut Island is now a beautiful little state park with flowers and winding paths, protected beaches and a man-made reef that the manatee love to come into and swim through. It also has little isolated gazebos which made for a perfect yoga space after a daily walk around the island.
Check out this Manatee Video at Peanut Island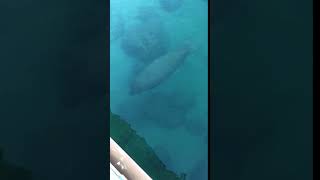 We dinghied often into Riviera Beach Marina for delicious red snapper ceviche and waited to hear from the rigger that was supposed to tune our rigging (check the tension on heavy duty metal things that keep the mast up)… and that took a while. Peg and Duane on s/v Wanderer arrived and told us to pull anchor and move closer to downtown West Palm since there was so much more going on, plus they'd be our neighbors! They were right, there was a main drag with tons of restaurants, theaters, a green market, museums, parks and a masseuse. Just like the FL massage parlors you've been hearing about in the news recently, I'm afraid. It's got a tropical 42nd street vibe to it, but a stiff back is not demanding, and it was cheap. All the while, we were still waiting to hear from the rigger.
In the meantime, while waiting for the rigger, we visited with friends and family that either lived in the area or were down for the season. This was a definite perk of the otherwise inconvenient wait for him to get in touch.
Since we were visiting everyone else and fed up with the wait for the rigger, we decided to just drive and visit the rigger as well and see why he was no longer returning emails and phone calls. Poor guy said he was simply swamped and promised to be on the boat in a week. We moved into Las Olas Marina, he finally arrived, our rigging was tuned, and we were ready to sail to even warmer weather.
We were now in downtown Fort Lauderdale a few days before spring break, so we tried to get out as fast as we could. We couldn't leave yet, however, without visiting the beautiful beach, the Bonnet House Museum and Gardens, a quick trip to the Everglades, and a French bakery called Nanou to provision on the incredible bread. If I had known the bread in the Bahamas was going to be so bad, I would have frozen more.
If you ever find yourself in the neighborhood, The Bonnet House Museum and Gardens is a must. And now, a trip to Costco allowed us to stock up before we entered the Bahamas where it's not unusual to pay $9.00 for a small bag of grapes. We had a full freezer and floor lockers, bare feet, and melted butter…. Bahamas here we come.