We woke up early on the morning of November 25, 2016 all by ourselves on our new (to us) Amel 53.  We had breakfast, and made preparations to head over to Rodney Bay.  We left the marina, and had our anchor down before 1100.  We spent the day swimming in the bay and getting to know the boat together.
Mid afternoon, Dan asked if he could take the dinghy for a ride.  As he had a decent amount of experience operating the dinghy on our previous charters, we said ok.  He put on a life jacket, and listened intently when we both told him to go slow, stay close by, and stay close to shore.  We pointed out the strong winds and the direction.  We told him if you get stuck, you want to have anchored boats between you and Panama, or be close enough to shore to row in.
Anna Marie and I watched as he drove around the bay, going both faster and farther than he should.  When he got over to the North end of the bay, just in front of the Sandals Hotel, he stopped.  We both watched as he fervently pulled the outboard starter cord to no avail – the motor didn't start.  He took out the oars and began to row towards us.
Rowing is nothing Daniel has ever done before, so this was fun to watch.  His intuition was telling him that this activity should be done while facing forward, looking over the bow, the same way you drive a boat.  However, as he wasn't making very good headway using this technique, and the strong easterly winds were doing a great job pushing him west, he quickly changed techniques.  He began to employ the single oar method while leaning over the bow.  One stroke on one side of the bow, and then one stroke on the other.  Anna Marie and I were enjoying this afternoon entertainment.  Although not in panic mode, it was evident that Dan was, let's say, extremely concerned about whether he was going to make it back.
If I had to guess, I would say he was a little more than a quarter mile away when the engine died.  He was making pretty good progress.  The problem was, he wasn't factoring in the wind.  Rather than heading for a point east of the boat, he was heading directly for it.  The closer he got, the more west he moved until he was almost behind us, and paddling almost directly into the wind.
Anna Marie and I had been discussing rescue plans.  We decided that we might be able to get away with letting out another couple hundred feet of anchor chain, but if that didn't get us far enough west, we would pull up the anchor and motor over to him.  Just as I was starting to let out some chain, a dinghy was passing by.  A quick shout enabled him to see Dan's predicament, and he altered course and towed Dan the rest of the way.  A heartfelt thank you and a Piton was delivered to the kind gentleman, and off he went.
Daniel got aboard huffing and puffing.  "I thought I was going to Panama" is all he had the energy to blurt out.  After 5 or 10 minutes of resting, the lesson began.  We explained to him the correct way to row a dinghy or rowboat – facing aft.  We also explained to him the effect the wind and current was having on his travel.  Then, he and I got into the dinghy to take a look at the motor.  I explained that the first thing to check is the fuel.  He said "I checked that, the tank has plenty of fuel".  I showed him the vent on the tank and explained that it could be closed preventing fuel from flowing – it was open.  A kink in the fuel line?  No kink.  However, the fuel line had come disconnected from the tank.  We reconnected it, and the motor fired right up.  All good lessons, and ones I don't believe he will forget anytime soon.
That night, we dinghied into the marina, and headed into Gros Isle to attend the street party.  Every Friday night they close off some Gros Isle Streets, and vendors set up stations to sell food, drink, crafts, etc.  There is a dj playing music, while people dance in the streets – literally.  Most attendees are tourists, but I would guess that a good 40 percent are locals.  As we had heard that there were areas to stay out of, and the potential of encountering some not so nice people, we enlisted the services of one Peter Phillip.
I had met Peter one night at the outdoor bar in the marina, before Anna Marie and Dan had arrived.  I came to find out that Mr. Phillip was the former boxer for Saint Lucia and today he runs a taxi service.  It was he who had picked up Anna Marie and Daniel from the airport, and we hired him to take us to the street party that night.
It turned out to be a great idea, as he spent the night educating us about the area and some of its history.  He knew which vendors had the best food, and as everyone knew him, we were able to avoid being propositioned by some of the unsavory characters who we selling things we had no interest in.  We had a great time and relished the experience of seeing how the locals both enjoyed themselves, and interacted with the visitors.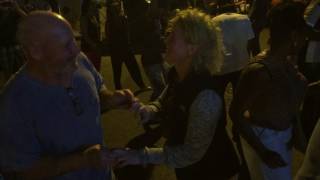 VIDEO – Some Street Party Fun
The next morning, we headed out for our maiden sail.  We had no destination planned, just to get out into the ocean and get a good feel for sailing the RK.  We had winds out of the east in the high teens, with gusts in the low twenties. We motored out of the bay, got the sails up, and headed on a Northwesterly course towards Martinique.  It was a beautiful day, and a good time was being had by almost all.
Anna Marie (and I) forgot that it usually takes a few days for her to get her sea legs, and failed to take any medicine that morning.  Unfortunately, this resulted in her getting a little sea sick and not enjoying the sail as much as Daniel and I.  As a result, we came about sooner than we would have otherwise.
We made it back to the bay as quickly as possible, and it wasn't long after dropping the anchor that she was feeling much better.  We celebrated later that evening with a fine dinner and some dancing at Jambe De Bois Restaurant.
The following day we did some exploring on Pigeon Island.
The next morning was extremely squally with heavy rain.  We sat and waited for quite a while for a pause to head into the marina.  Finally, a window opened and we headed in.
A half hour after docking, Anna Marie and Daniel had to catch their ride to the Airport.