After a hearty breakfast, we dinghied into town to check out the sites and find a ride to the turtle sanctuary.
The schooner Friendship Rose is supposedly the last Bequia schooner to be built using only hand tools.  She was purchased by a British couple in 2004 and they started offering tourists day cruises to Mustique and Tobago Cays later that winter season.  You can read more about her here.
We walked a little about town just doing some sight seeing.
After enjoying some cold drinks, we found a cabbie, Doc, to take us to The Old Hegg Turtle Sanctuary.  The owner and founder of this facility, Orton King, started the sanctuary over 20 years ago in an attempt to help the Hawksbill Sea Turtle have a chance to overcome the odds against their continued existence.  He is passionate about his mission and very interesting to chat with.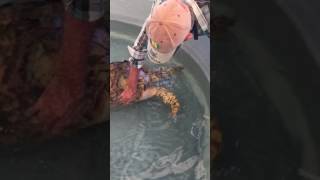 Doc took us back to town where we took a stroll before heading back to the boat to enjoy another beautiful sunset.
The next day we headed off to do a hike to Peggy's Rock.  It was supposed to be a 45 minute hike, but that was before the road that led to the trail was washed out.  Not sure how long ago that was, but from the look of the road, it was at least a couple years ago.
We hopped in the back of Ricky Ricardo's taxi, and sped off to do some hiking!
We were hoping to get an early start so we wouldn't be hiking in the heat of the high sun.  The best we were able to do was get here by about 10:45, but off we went.
The 360° view from the top made it well worth the effort.  All in all, it took us about an hour and a half each way.  I'm sure we could have done it a bit faster if Anna Marie and I were wearing the proper footwear, but nothing mattered once we got to the top.
We trucked back down (which was harder in flip flops than the way up), and started looking for a place to eat.
We sat down and waited, and waited, and waited.  Finally, the gentleman at the table next to us got up and rounded up some servers to wait on us.  Daniel asked him if he was the owner, and he said yes.  A conversation ensued and this gentleman turned out to be a fine man.  The former Prime Minister of Saint Vincent and the Grenadines.  You can read all about him in Anna Marie's posting The Prime Minister.